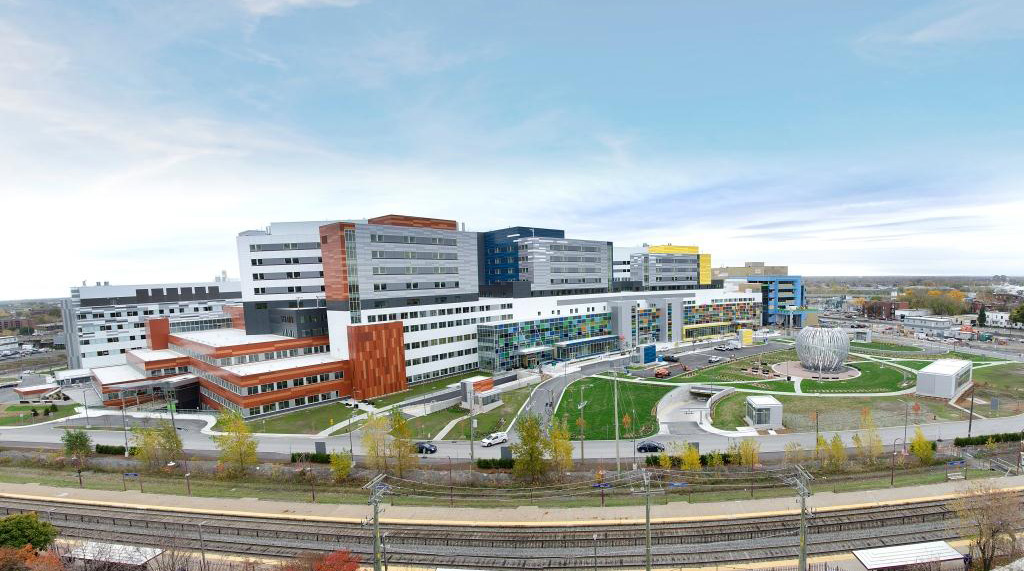 Montreal, Quebec, Canada
Health Care Relocations forged a successful working partnership with all MUHC Redevelopment Project stakeholders involved in this P3 project. Our 2 years of detailed planning led to the ultimate flawless execution of the massive redeployment of numerous legacy sites to the new 2.5 million square foot, 500-bed Glen Site location. This amalgamation marked the largest hospital move in Canadian history, spanning a six month time frame, involving over 7,000 staff and seeing three large legacy facilities (Royal Victoria Hospital, Montreal Children's Hospital and Montreal Chest Institute) close their doors. MUHC's prestigious Research Institute consolidated into a new, half-million square foot research centre at the new site. The project also involved inter-site transfers among the various facilities within the network that remain open.
HCR's services included Facility Activation services, Operational Readiness support, Patient Transfer planning and Physical Transfer planning, all performed for MUHC. HCR also undertook the physical relocation of all equipment and contents under a contract with Projectco.
The initial stage accomplished the safe transfer of 17 long term care patients, their belongings and associated equipment from the Montreal Chest Institute to the Camille-Lefebvre Pavillion of the Lachine Hospital.
The relocation of the historic Royal Victoria Hospital was one of the key redeployment operations for MUHC, with moves originating from numerous buildings and taking place over 19 consecutive days.154 patients (139 adults / 15 babies) were comfortably settled into Blocks B, C and D of the new site. Departments relocated included: Physical Therapy, Occupational Therapy, Housekeeping, Transport, Parking, Security, Food Services, Ombudsman, IS, Medical Library, Pharmacy, Biomed, Infection Control, Clinical Nutrition, Social Services, Laundry, Spiritual Care, Microbiology, Occupational Health, Pathology, Cytology, Medical Records, Volunteer Services, Surgical Clinics, ENT/OTL, OBS/GYN Research, Transfusion Services, TAU, Materials Management, CIM, Audiology, Speech Language Pathology, Tumour Registry, Urology, Cystoscopy, Oncology, Poly Clinic, Pre Op Clinic, Pulmonary Clinic, Sleep Disorders Clinic, Internal Medicine, Nephrology, Lab, Dialysis, Nuclear Medicine, Microbiology, Breast Centre, Vascular Lab, Heart Failure Clinic, Cardiology Clinic, ECG, Lipid Clinic, Women's Health Clinic, Anaesthesia, Sleep Lab, Transplant Clinic, Respiratory Therapy, GI Clinic, Hematology, Medical Imaging, MDR, ED, Bone Metabolism, OR, PFT Lab, Infectious Disease Clinic, NICU, ICU, SSU, Cath Lab, Perfusion, Birthing Centre, Endoscopy, and Medical Day Centre.
The delicate move of the Montreal Children's Hospital spanned 13 days and welcomed 66 pediatric patients into Block B of the new site. Departments relocated included: Psychology, Social Services, Autism Spectrum, Spiritual Care, Child Development, Family Resource Centre, Volunteers, Housekeeping, PICU, General Surgery, Physical Therapy, Occupational Therapy, Cardio Vascular Surgery, Surgical Day Center, Anesthesia, Nero Surgery, Plastic Surgery, Infection Control, Infectious Diseases, Cardiac Diagnostics, Medical Imaging, Nuclear Medicine, Medical Records, Pharmacy, Warehouse & Distribution, Clinical Nutrition, Child Life, Multimedia Services, Food Services, Medical Library, Medical Education, Cardio Vascular Surgery, Perfusion, Trauma Rehab, Medical Day Hospital, Complex Care Services, Ophthalmology, Microbiology, Transfusion Services, Pathology, Cytogenetics, Molecular Genetics, Biomed, IS, NICU, SSU, PICU, ORs, ENT, Hem Oncology, Dialysis, Respiratory Therapy, Day Surgery, ER, Neurophysiology Lab, Social Services, Speech, Audiology, Clinical Research Emergency Medicine, Laundry & Linen, CIM, PFT Lab, MDR, Clinical Investigation, Sleep Lab, Admitting & Registration, and Test Center.
Over 8 days, portions of the Montreal General Hospital and the entire Montreal Chest Institute were moved into Block C & D of the new site. This phase witnessed the transfer of 38 patients. Departments relocated included: National Home Ventilation, Oncology Admin Program, Clinical Labs, Social Services, Clinical Nutrition, Cansupport Clinic, Physical Therapy, Occupational Therapy, Urology, Oncology, Palliative Care, Oncology Supportive Care, Head & Neck, Medical Clinics, Radiation Oncology, Medical Physics, PPDMA, NHVP, Infection Control, Support Services, Medical Records, Food Services, Pharmacy, Medical Imaging, Library, OR – Bronchoscopy, Thoracoscopy, Asthma, Sleep Disorders, Cystic Fibrosis, COPD, RIC, Tuberculosis, Smoking Cessation, Chronic Viral Illness, Respiratory Medicine, ICU, Cardio Respiratory Lab, Oncology Ambulatory Care, Ambulatory Services, Infectious Diseases, Endocrinology, Sarcoma Clinic, Respiratory Medicine, Respiratory Therapy, Cystoscopy, Colorectal, Anticoagulation Clinic, Palliative Care, Hemo Oncology, Housekeeping, Waste Management, Parking, Admitting, Test Centre, PFT, Medical Physics, and MDR.
CTV Coverage
Youtube Video
CBC Video Coverage
Journal de Montreal Coverage
MUHC Coverage
MUHC Coverage Part 2
CBC Coverage
RVH Post-Move Coverage
Additional CTV Coverage
CTV Coverage
CTV Montreal Coverage Article
CTV Montreal Completing the Move Coverage