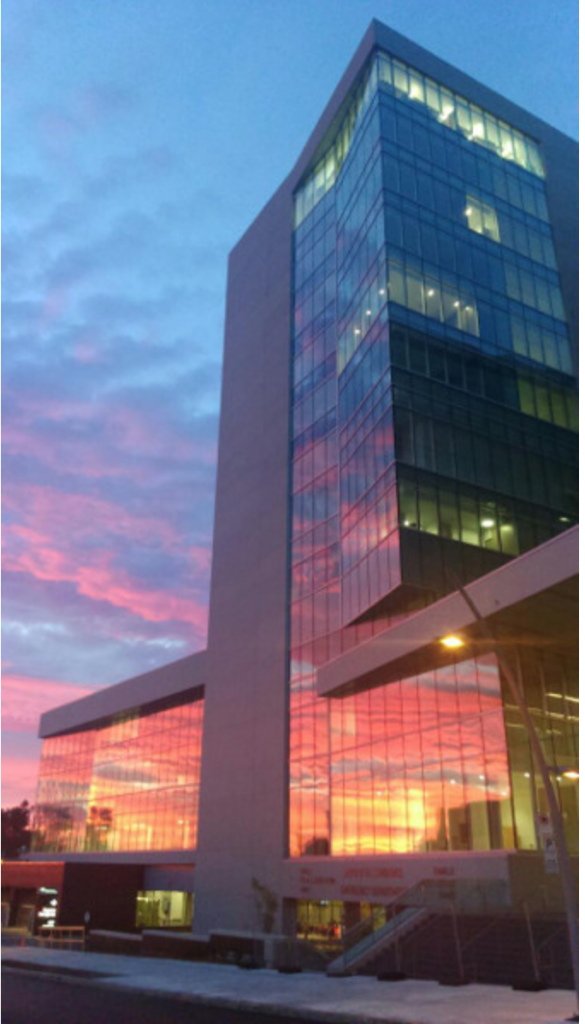 Montreal, January 24, 2016 – A major step forward in healthcare services in Montreal was taken today with the opening of Pavilion K at the Jewish General Hospital (JGH), a member institution of the Integrated Health and Social Services University Network for West-Central Montreal (West-Central Montreal Health).
The six-day relocation of equipment was completed on time yesterday and today's activities were devoted to the safe transfer of 203 patients to their new rooms between 7:00 a.m. and 12:32 p.m. The transfer of patients was carried out at a rate of one patient every 2½ minutes, except for those in critical condition who were moved every five minutes.
The 18 departments relocated to Pavilion K are now in operation with a total surface area of approximately 600,000 square feet (55,000 square metres).
The construction of the state-of-the-art, $423 million Pavilion K was made possible through funding from the Ministry of Health and Social Services and of the continued support of the community. The JGH Foundation was also a critical factor in the acquisition of cutting-edge technology, equipment and furnishings for the new clinical activity rooms and patients' rooms, as well as staff training.
Later this year, the hospital cafeteria will also be relocated to the Agora in the main lobby of Pavilion K. The new cafeteria will be designed as a food court, including five kiosks offering a large selection of different foods.
"Pavilion K will considerably improve the patient's experience at the JGH and, by extension, the whole health and social services network", states Dr. Lawrence Rosenberg, President and CEO of West-Central Montreal Health. "The compassion and professionalism of the JGH staff are enriched by the innovative design and modern technology that reduce the risk of infection, increasing the quality and effectiveness of treatment, allowing patients to recover in ventilated, bright rooms that better preserve their dignity and privacy".
"Teamwork is what made this day such a success and also what helped the process of planning and preparing for the move to run so smoothly," said Joanne Côté, JGH Director of Transition. "Staff members from all departments and all fields of health care came together to make sure that our patients were moved as safely, comfortably and quickly as possible, with little or no interruption to their care. Putting the patient first and joining together as a team are the keys to every hospital undertaking, no matter how large or small."
"The JGH is a major player within our network, to the point that these large-scale improvements have a positive and huge impact on other health and social services institutions of our West-Central Montreal Health", said Alan Maislin, President of the Board of Directors of West-Central Montreal Health. "Pavilion K will make a significant difference by optimizing inter-institutional patient flow, strengthening the continuum of services within our network and contributing overall to accelerating access to care everywhere".
Allen Rubin, President of the JGH Governing Council, attributes the successful completion of Pavilion K to "a combination of the dedication of many visionaries, a visionary construction team, a tireless transition team, as well as all the employees involved who shared their ideas in order to ensure that patients remain the focal point of our efforts. Pavilion K is the epitome of teamwork which makes the JGH so unique".
About West-Central Montreal Health
The Integrated Health and Social Services University Network for West-Central Montreal (West-Central Montreal Health) consists of the Jewish General Hospital, Catherine Booth Hospital, CLSC Benny Farm, CLSC Côte-des-Neiges, CLSC Métro, CLSC Parc-Extension, CLSC René-Cassin, Constance-Lethbridge Rehabilitation Centre, Father-Dowd Residential Centre, Donald Berman Maimonides Geriatric Centre, Henri-Bradet Residential Centre, Info-Santé Montréal Regional Service, Jewish Eldercare Centre, MAB-Mackay Rehabilitation Centre, Miriam Home and Services, Mount Sinai Hospital Centre, Richardson Hospital, St-Andrew Residential Centre and St-Margaret Residential Centre. Nearly 345,000 people live in the area covered by West-Central Montreal Health, which has a staff of more than 9,000, including 400 doctors.
Source: Jewish General Hospital