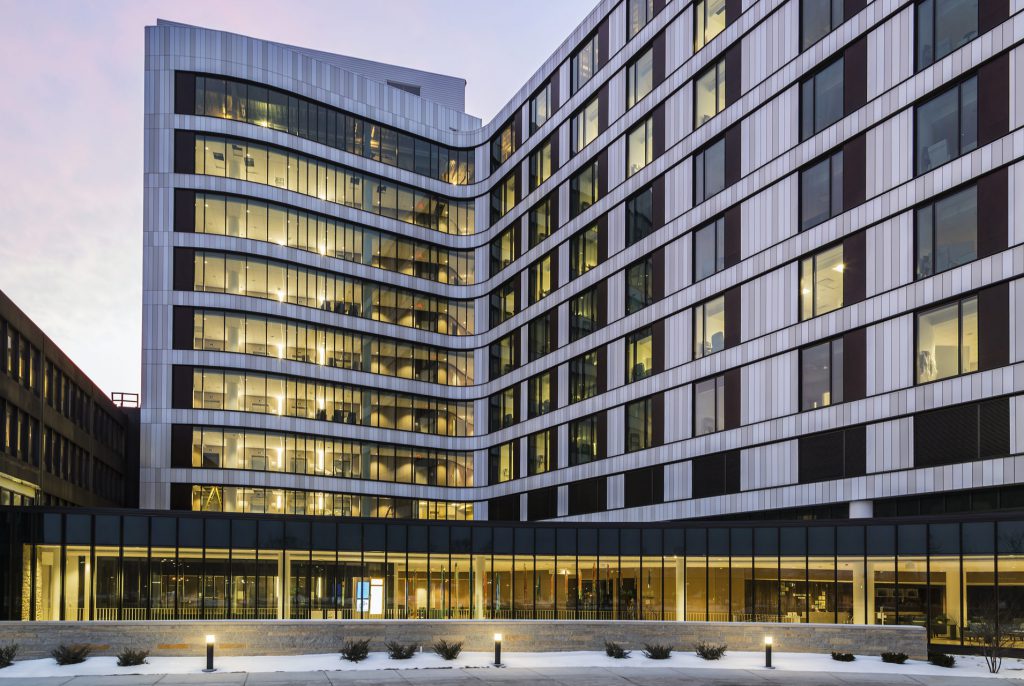 Muskegon, Michigan, USA
740,000 ft² | 68,748 m² | 267 Beds
Mercy Health is a non-profit health care system providing care to residents of Grand Rapids, Muskegon, the Lakeshore and surrounding communities in Michigan. A part of Trinity Health, the nation's second-largest Catholic Health System, Mercy Health provides healthcare services in a Catholic, faith-based setting that honors the sacredness and dignity of every person.
The $291 million Mercy Health Mercy Campus Expansion and Consolidation Project was one of the largest construction projects ever completed in Muskegon County. It saw the construction of a new 10-story 380,000 ft² attached tower and 360,000 ft² of renovations to various areas of the existing hospital. These new and renovated spaces allowed for the consolidation of services that were previously divided between the Hackley and Mercy Campuses, resulting in more efficient and collaborative service delivery. Following the move, the vacated Hackley Emergency Department site became an urgent care center, which was much needed at the time as the other two urgent care centers in the area, the North Muskegon Urgent Care Center and Lakes Village Urgent Care Center, were both temporarily closed due to the COIVD-19 pandemic.
HCR was selected by the hospital to provide move planning and relocation services for the patient and asset moves required to implement the project. HCR worked closely with the owner's representative, CBRE Healthcare, throughout the project. The moves were completed in four separate phases between 2018 and 2020. HCR developed detailed customized move plans and schedules for each individual move phase, performed the physical relocation of all equipment, staff contents and other assets that were moving and, most importantly, planned and coordinated the patient transfers in a safe and efficient manner.
The first phase was completed in December 2018 and saw the Emergency Department and twenty operating rooms open on the garden level and first floor of the new tower. The second phase was completed in May 2019 and saw four more floors of the tower open, requiring the internal relocation of 150 patients. The third phase was completed in December 2019 and involved the relocation of the Histology and Cytology Laboratory. The fourth and final phase was completed in 2020 and involved the relocation of the Surgical Services Department including 12 Operating Rooms, Endoscopy, Post Anesthesia Care Unit, Pre-Op & Sterile Processing, as well as the Emergency Department, Pharmacy, Laboratories, Supply Chain, Environmental services, and Food Services. On the final day of the move HCR coordinated the transfer of 125 patients, 7 of which were ICU patients, who were safely moved from the Hackley Campus, located approximately 3 miles away, into the newly renovated areas of the existing hospital, marking the end of this three year project.