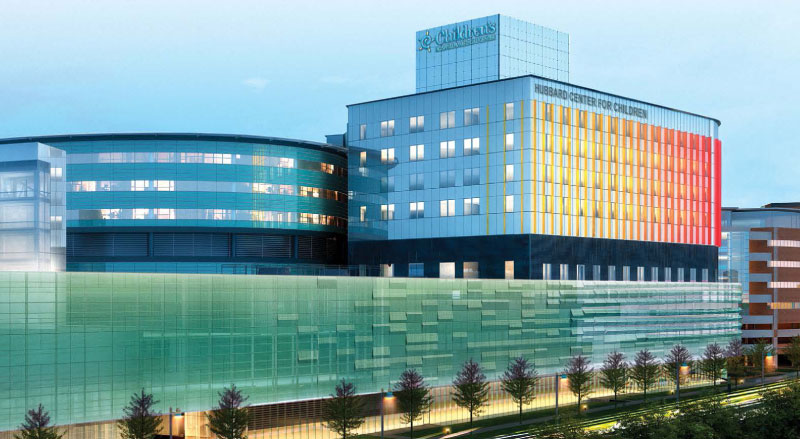 Omaha, Nebraska, USA
425,000 ft² | 39,485 m² | 100 Beds
The Children's Hospital & Medical Center of Omaha is a non-profit organization with an Outpatient Surgical Center, 35+ Specialty Clinics, 13 Pediatric Primary Care Clinics, 3 Urgent Care Clinics & Home Healthcare Services.
The Hubbard Center for Children project saw the construction of a 425,000 ft², 9-story addition attached to the existing Children's Hospital & Medical Center. The new expansion doubled the hospitals capacity by adding 100 additional beds. It also features a new state of the art Cardiac Care Unit, new Hematology / Oncology Care Unit, NICU, PICU, Fetal Care Center, Pre / Post-Operative Units, Surgery expansion, Radiology expansion, as well as a new Emergency Department, Conference Center, Cafeteria & Support Services spaces.
HCR was selected to provide a number of transition-related services for the project, Dock Management for receiving new purchases, Assembly, Distribution and Installation of Owner Purchased / Owner Installed Items, Asset Tagging, Asset Move Planning, Physical Relocation of Assets, and Consolidation/Inventory of Redundant Assets.
HCR spent nearly a year working in cooperation with the facility, Transition Planners HTS, Inc., Equipment Planner Medline and the Transition Manager, CBRE Healthcare, to plan for the move.
For four months, HCR provided Dock Management services at the hospital's warehouse to coordinate deliveries, receive and assess over 3,000 items purchased to outfit the facility. Once the tower was ready, HCR delivered those items to site, unpacked, assembled, and distributed/installed them throughout the new tower. This work was completed over ten consecutive days in June 2021.
Once fully ready for occupancy, HCR performed the physical relocation of assets moving from various areas of the existing hospital into the new tower. In total, units occupying approximately 200,000 ft² of space were safely moved. Immediately following the move, HCR consolidated all remaining loose / mobile medical equipment that remained and created an inventory of these items, including their description and location. This work was completed over one week in late August 2021.