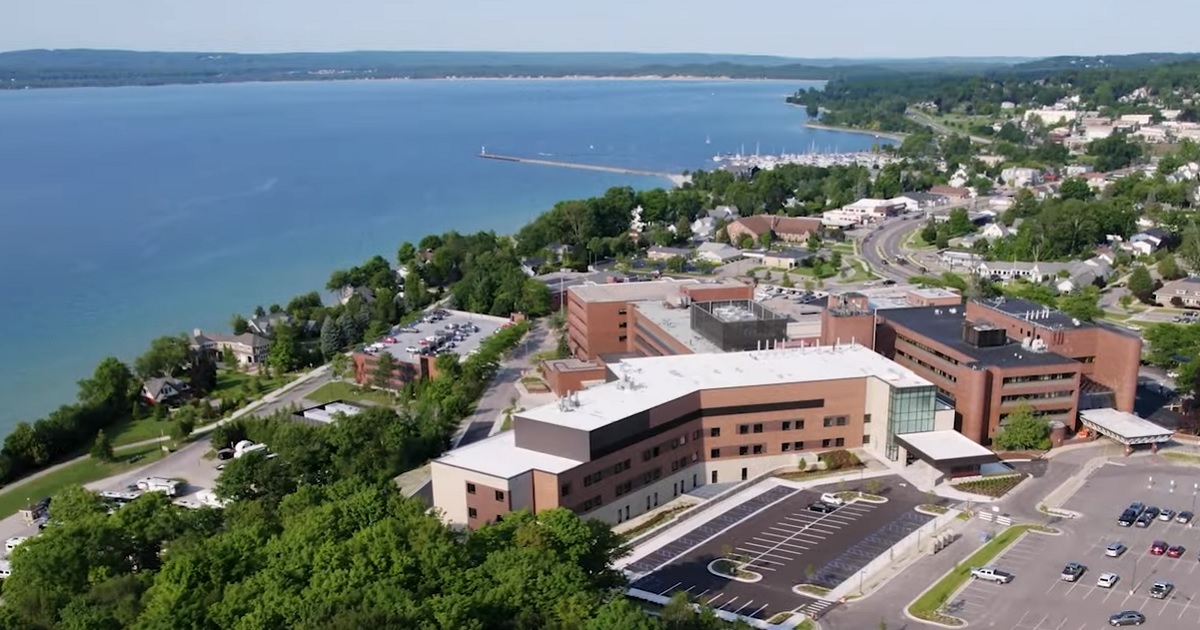 Petoskey, Michigan, USA
South Tower Size:      182,000 ft² | 16,910 m² | 104 Beds
Date:                            December 2019 – August 2021
Renovations Size:      60,000 ft² | 5,574 m²
Date:                            August 2022 – June 2023
McLaren Northern Michigan is a regional hospital serving residents in 22 counties across Northern Lower Michigan and the eastern part of the Upper Peninsula. With more than 230 physicians, it represents nearly all medical and surgical specialties, enabling full-service care with an emphasis on cardiology, cancer, orthopedics and neurosciences.
The hospital embarked on a half-decade expansion and modernization project in 2017 that involved the construction of a new South Tower addition, as well as numerous phased renovations to the existing facility. HCR was selected to provide a full range of relocation services in support of the project, including Building & Staff Readiness Planning, Patient Relocation Planning, Patient Transfer Coordination, Asset Relocation Planning, Physical Relocation of Assets, Off-Site Warehousing, Installation of Owner Purchased/Owner Installed Equipment, IT Roll-Out and Consolidation Planning.
The $158 million South Tower Addition saw the 182,000 ft² / 16,910 m² Offield Family Pavilion constructed attached to the existing hospital, with connections on the basement level, ground floor, and second floor. The tower features a new main entrance with a grand lobby, 10 state-of-the-art operating room suites with 4k technology, 92 private patient rooms, a new expanded ICU, a new cardiovascular unit and a new orthopedic surgical unit. HCR worked closely with the facility for nearly two years to plan for the transition into the new tower, ensuring that new the building was properly outfitted, and staff were prepared to provide care in it. HCR arranged for the provision of off-site warehousing, which received, inspected, documented, and safely stored all new purchases. HCR coordinated deliveries to site and completed the installation of nearly 3,000 new non-medical items, medical items and IT devices over one week in June 2021. Once ready for occupancy, HCR relocated all equipment, furniture, IT, health records, staff contents, supplies, and other contents from the existing hospital into the new tower. These moves were completed over one week in mid-August 2021. The patient transfer was performed on the final day of the move and saw all patients safely transferred into the new pavilion.
Following the completion and opening of the Offield Family Pavilion in 2021, McLaren Northern Michigan underwent a multi-year renovation that saw nearly 60,000 ft² / 5,574 m² of the existing hospital renovated and various departments relocated to improve overall patient convenience and operational efficiencies. This included new endoscopy suites, a new inpatient lab and pharmacy and a new community education room. It also expanded the preoperative unit, the post-anesthesia unit and the ambulatory recovery areas. Special patient hallways and elevators were created for private patient transportation, as well as an expansive hallway on the Concourse level to connect the new wing to the existing building, which includes a new consolidated Medical Imaging waiting room, a Centrally located coffee shop, a new Chapel and Chaplain's office and a gallery of philanthropy honoring past and current giving.
HCR was selected again to provide Installation of Owner Purchased/Owner Installed Equipment, Asset Move Planning and Physical Relocation Services for each of the three phases of the renovation moves. HCR worked closely with the facility's warehouse to ensure a well-coordinated receiving, verification, storage and delivery-to-site process and performed the installation of hundreds of items throughout the facility immediately in advance of each move. HCR then performed the safe relocation of all assets moving throughout each phase of the project: the first phase was completed in September 2022; the second phase was completed in February 2023, and the third and final phase was completed in June 2023.