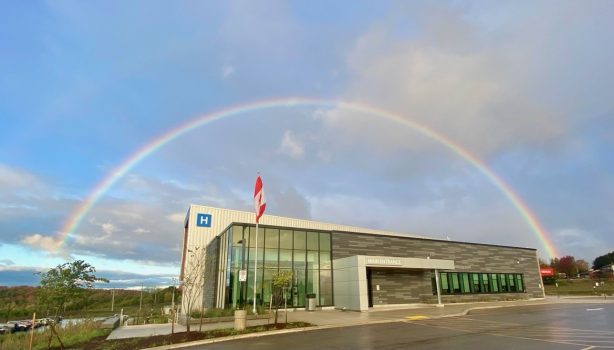 Markdale, Ontario, Canada
78,000 ft² | 7,246 m² | 7 Beds
Ontario's Brightshores Health System (formerly Grey Bruce Health Services) is a regional hospital-based health services organization that operates six hospitals in the Grey Bruce region of Ontario, Canada – the Regional Hospital in Owen Sound and five other rural hospitals in Lion's Head, Markdale, Meaford, Southampton and Wiarton.
Construction of a new $70 million, 78,000 ft² purpose-built facility began in March of 2021, to replace the existing 50,000 ft², 14-bed, Centre-Grey General Hospital in Markdale, which opened in 1958. This new space allowed Brightshores Health to modernize and expand services, while providing much-needed additional space for future growth.
HCR was selected to provide a full range of transition services for the project, including project management organization structure development, operational readiness review, asset inventory, off-site warehousing, activation planning for both building and staff, asset relocation planning, installation/placement of new owner-installed equipment and furniture, physical relocation of assets, patient transfer planning and coordination, asset consolidation, and vendor and sub-trade management.
HCR began working closely with all project teams in early 2022 to establish a project management organization structure and performed a detailed operational readiness review to assess the state of transitional planning that had been completed to date.
HCR then performed a thorough inventory of existing medical equipment and furniture slated to be relocated to the new facility, to verify the current inventory list and ensure accuracy. HCR's off-site warehousing work began in January 2023, once all reuse items had been confirmed. Utilizing HCR's warehouse, HCR staff received, inspected, and inventoried hundreds of pieces of furniture, medical equipment, and other items required to outfit the new facility, before safely placing them into secure storage. Following construction completion, HCR scheduled and delivered all items to site, coordinated with all necessary vendors and sub-trades, and performed the assembly/placement/installation of these items over three days in June 2023. Once the building was fully outfitted, the building and staff activation plan developed with HCR guidance and oversight was executed, ensuring that the new hospital and all staff were prepared to provide quality patient care and rapidly transition back to normal operations following the relocation.
Once the new facility was ready for occupancy, HCR staff performed the physical relocation of all re-use assets that were moved into the new hospital over four consecutive days in September 2023. The patient move was completed on the final day of the move, with eight patients safely transferred into the new facility. Immediately following, HCR performed the consolidation of all remaining redundant items within the existing hospital to assist Brightshores Health in planning for their disposition or disposal.