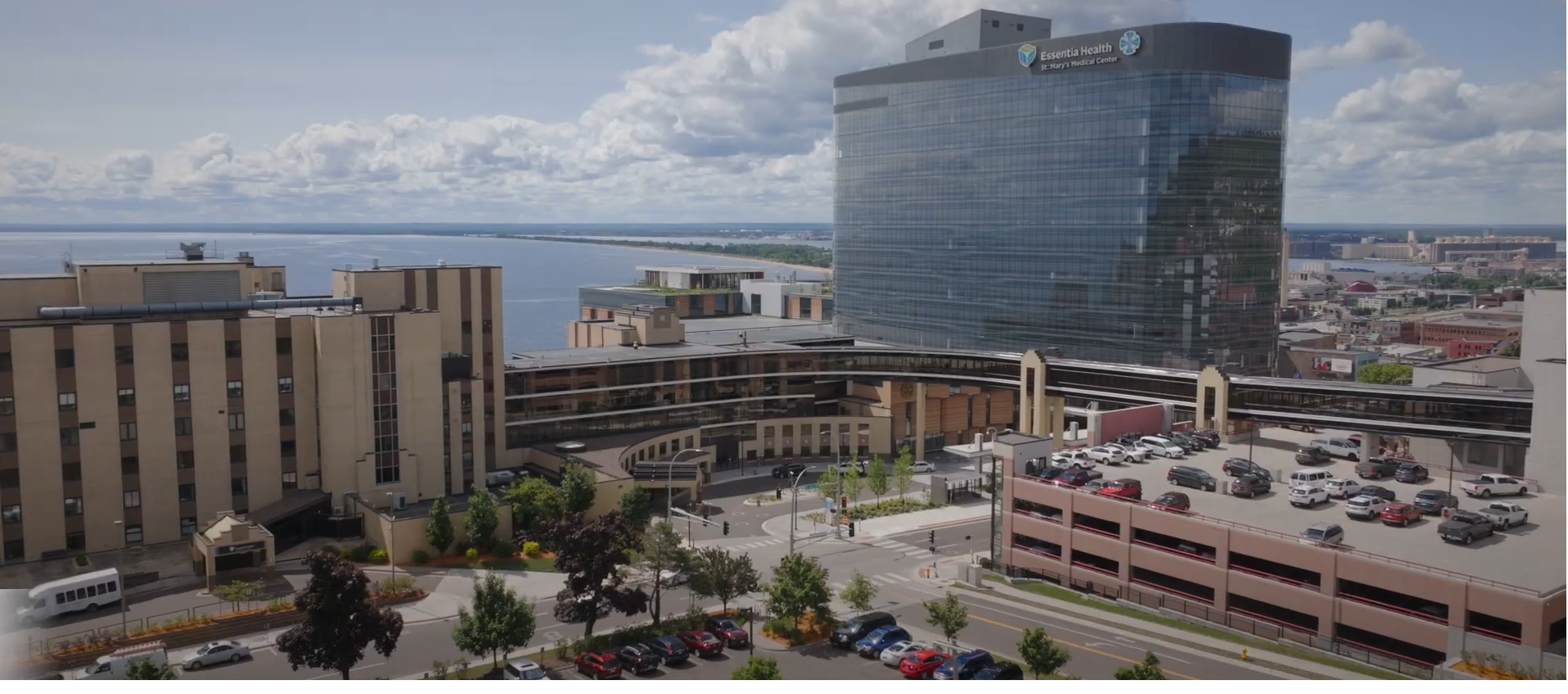 Duluth, Minnesota, USA
954,000 ft² | 88,630 m² | 346 Beds
Headquartered in Duluth, Minnesota, Essentia Health is an integrated health system serving the residents of Minnesota, Wisconsin, and North Dakota. It operates 14 hospitals, 78 clinics, 6 long-term care facilities, 6 assisted living and independent living facilities, 7 ambulance services, 27 retail pharmacies, and 1 research institute.
In 2018, Essentia Health launched their $900 million Vision Northland Project, a major multi-year initiative to enhance patient care, modernize infrastructure and transform their existing downtown health campus, which was comprised of numerous outdated buildings. This saw the construction of a new 954,000 ft² facility connected to the existing St. Mary's Duluth campus to replace the existing 380-bed St. Mary's Medical Center.
HCR became involved in the project in 2019, providing a detailed Transition Planning Review & Assessment to identify the transition needs for the project. Following this, HCR worked closely with Essentia Health and all other project teams throughout the project, providing Transition Planning and Project Management Integration, Activation Planning, Patient and Asset Relocation planning, Patient Transfer Coordination, Physical Relocation of Assets, and Asset Consolidation services.
Detailed plans developed over half a decade were executed over 11 days in late July of 2023, when HCR performed the seamless transition of all medical equipment, reuse furniture, contents, personnel, and patients that were moved into the new facility. The preliminary asset moves were completed over the first 9 days of the move, followed by a single day patient move that saw 240 patients and the remaining clinical equipment safely transferred in less than 7 hours. Immediately following the move, HCR gathered, sorted, and organized loose/mobile medical equipment that was remaining within each department of the existing facility and developed a detailed listing of these items that was provided to Essentia Health to assist them in planning for their reuse or disposal.