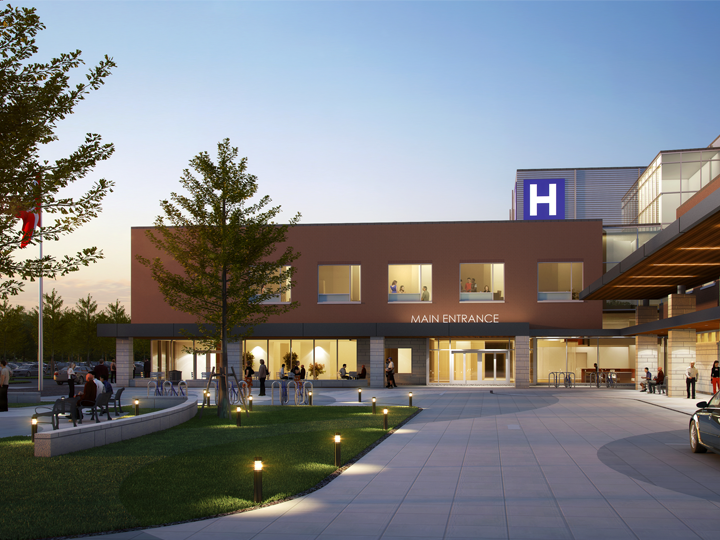 Fergus, Ontario, Canada
146,000 ft² | 13,565 m² | 45 Beds
The new $144 million Groves Memorial Hospital was constructed to replace the existing hospital and increase space for emergency, ambulatory, diagnostic and inpatient services. It also modernized infection control measures by providing additional isolation facilities to respond to potential pandemic or disease outbreak.
HCR participated in the project under contracts with both the hospital and Ellis Don (Project Co). Transition Advisory services were provided to Ellis Don and Move Planning and Relocation services were provided to Groves.
HCR spent months ensuring that appropriate plans were in place to allow for a seamless transition from the existing hospital into the new facility. HCR hosted numerous Transition Planning Meetings with the hospital and their users and, with the information gathered, developed a detailed move plan and sequence, including individual department move plans and guides, for all assets relocating into the new facility. HCR also planned and scheduled the relocation of all patients moving into the new hospital.
Once the new facility was completed, HCR executed those plans and performed the physical relocation of existing medical equipment, non-medical equipment, administration, medical records, archives, furniture, IT equipment, beds, and other contents. These moves were completed over a one-week period in early August 2020. Immediately following the completion of the asset relocation, HCR coordinated the patient relocation, which saw all patients safely relocated to the new hospital in a single-day, marking the official opening of the new hospital.