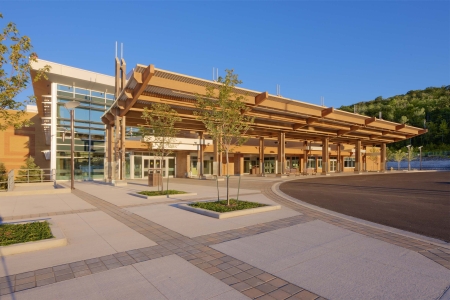 North Bay, Ontario, Canada
750,340 ft² | 69,710 m² | 388 Beds
For over 3 years, Health Care Relocations planned the extensive relocations of the existing hospital sites at Scollard and McLaren and the North East Mental Health Centre (NEMHC).
HCR completed the unpacking, assembly, distribution, and installation of thousands of items throughout the North Bay Hospital in preparation of their opening in January. The HCR team was able to complete the successful installation of items ahead of schedule throughout the 700,000 plus square foot facility. This early outfitting of the building provided the North Bay hospital staff ample time to prepare and train in their new facility prior to the scheduled opening.
This long awaited move was completed in two phases and brings together, for the first time in Canada, an acute hospital co-located with a specialized mental health centre.  The brand new NBRHC welcomed 118 patients from NEMHC and 140 from the existing hospital sites under the patient move coordination sequence of HCR.  In addition to the large patient relocations, HCR was responsible for extensive equipment installations and post move consolidation.
News Coverage
http://www.nugget.ca/2011/01/28/crews-on-the-move-all-patients-will-be-transferred-to-new-health-centre-this-weekend